There are four basic elements of network architecture that must be considered when designing a network. Each of them must be planned when designing the network. These elements are illustrated below:
SONET links can be thought of as highways, as SONET is used in metropolitan and wide area networks. Using this highway analogy, we can say that a SONET transport network is hierarchical, as a collection of small roads, medium-sized roads, and highways for long distance. Unlike highway systems, the typical architecture for SONET is a collection of rings, although point-to-point connections are used as well.
Figure 4-4 illustrates the following three classes of SONET networking equipment:
O-E-O regenerators,
add-drop multiplexers, and
terminal multiplexers.
O-E-O regenerators are used to regenerate optical signals that travel long distances. The most straightforward, although not necessarily the most effective way to regenerate is to convert to the
electrical domain
and then back to the
optical domain
, as discussed elsewhere in the book.
SONET O-E-O regenerators might differ from
protocol-independent
O-E-O regenerators by
(TMs) Terminal multiplexers are a specialized class of ADMs used at the edges of SONET networks. They have the capability to multiplex lower bandwidth signals coming from SONET or non-SONET access networks. Terminal muxes are used to aggregate lower-bandwidth traffic into higher-bandwidth SONET pipes for transmission over optical fibers.
An example of SONET transport architecture is shown in Figure 4.3 .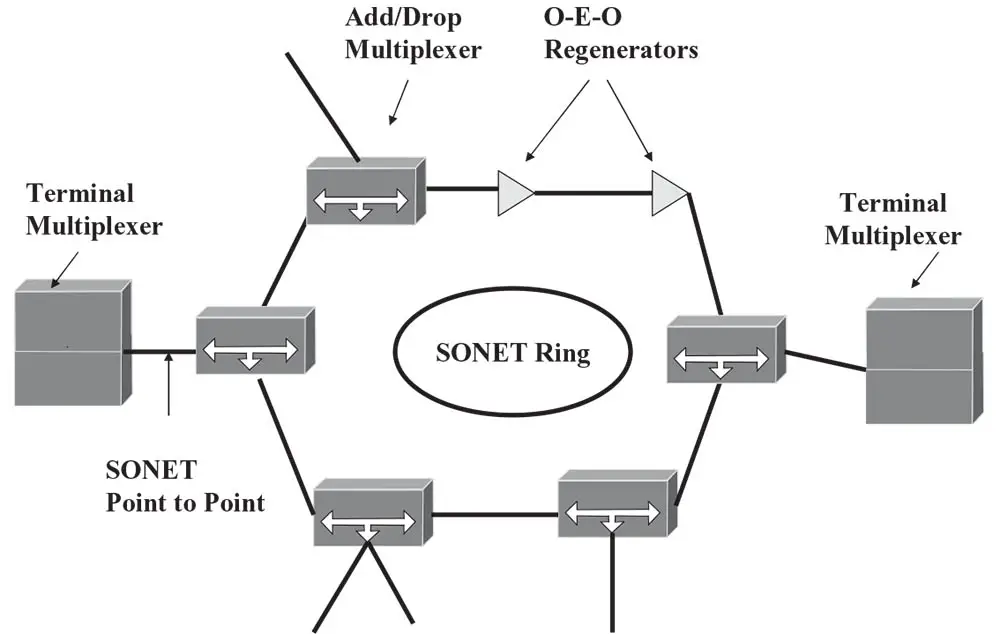 This particular SONET ring consists of fi ve ADMs, which are collecting traffi c from other ADMs and TMs residing outside the ring. In addition to ADMs, the rings contain O-E-O regenerators which are inserted in the network when the distance between two ADMs becomes too large. SONET regenerators are much simpler and cheaper than ADM regenerators, but unlike ADMs, they have no ability to branch out traffi c. In addition to O-E-O regenerators, optical amplifi ers can be used in the ring as well. -->