| | |
| --- | --- |
| Lesson 10 | Channel effect on e-Business models |
| Objective | Illustrate sales channels. |
Channel effect on e-Business models
Review of Business Stages
Regardless of business model or business stage, e-Business architecture has created the most powerful
sales channel
[1]
ever known. Each day, more and more people join the ranks of online shoppers. According to a recent report by Forrester Research, U.S. consumers will spend $20 billion on the Web in 1999. By 2004, this number is expected to mushroom to $184 billion.
Sales channel conflict
The Internet has enabled businesses of all sizes to create a virtual storefront and enter the online marketplace offering their goods and services to a global audience. However, not all companies going online experience overnight successes. Companies that have been successful with brick and mortar[2] stores may experience sales channel conflict. Sales channel conflict arises when an additional sales channel is added to existing ones. These new channels can overwhelm and overload a market and may take time to become successful. Channel Conflict Resolution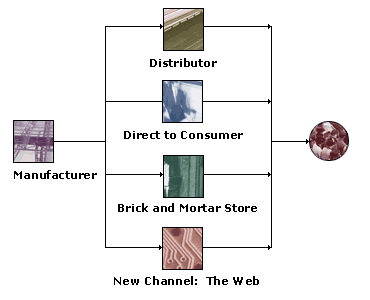 Channel ebusiness
Cosmetic manufacturer Estee Lauder sells Clinique products directly to customers online. However, the company is aware that it may be a long time before its Web channel is successful. According to IDG.net, only 2% of its shoppers actually purchase Estee Lauder products online. The majority of online shoppers are window-shopping. The majority of Estee Lauder's sales come from their traditional sales channel: distributors.
Myth of Channel Death
Disintermediation explained
Lately, the concept of disintermediation has become a buzzword of concern to brick and mortar businesses and existing middlemen. For example, Home Depot was so concerned that suppliers would sell direct, that they announced they would not carry those manufactures that sold direct. Let us not be naive here, if a manufacturer goes online it will still need to find a virtual intermediary. In this case, the middleman has simply shifted. More importantly, however, companies are finding out that the Web is simply a new channel that does not need to conflict with their brick and mortar stores.
[1]
Sales channel:
The way in which a vendor communicates with and sells products to consumers. For example, physical storefront, catalog sales, telemarketing, and the Internet are all different sales channels.
[2]
Brick and mortar:
A traditional storefront that includes physical retail space. This is in contrast to a "virtual storefront" or a "click and mortar." Both of which refer to an e-Business with no physical retail space.