Lesson 11
e-business Architecture Concepts Conclusion
In this module we covered:
The definition of architecture
The role and skills of an architect
Perspectives
Issues and concerns
The separation of concerns
Quality factors
Differences between architects, engineers, and developers
Reference architectures
The IT scale and perspectives
Best Practices of Technology Leverage for ebusiness: From Architecture to Strategy
According to META Group's analysis, While most near-term Global 2020 EC strategies will target value chain initiatives (procurement, EDI/XML, externalization, dynamic trading network evolution, extranets, business collaboration), complex sell side (for example, Web branding, affiliations, order management, Web-based distribution) and customer relationshipfocused efforts (for example, bill payment/presentment, multi-brand communities, integrated self-service) initiated in 2019-2020 will drive investment through 2023.
In light of this statement, the following discussion will focus on examining how leading corporations are leveraging IT and new Internet tools to achieve significant business value. Nevertheless, this examination is not meant to be inclusive of every practice that an organization should be adopting with regard to IT strategies. Rather, it is meant to highlight the critical (most used) strategies that can help companies achieve significant improvement of efficiency across their organizations within multiple e-business models and across a variety of industries (e.g., telecommunications, consumer products, legal, public utilities, software vendors, and so on).
Although many companies have made dramatic improvements in efficiency and differentiation, often gaining double-digit increases in profitability. I do not know of one instance where measurable successes have occurred without overhauling a company's strategic planning processes and simultaneously merging them with the strategic technology architecture planning process to reflect the e-business economy-accelerating business cycle. Moreover, long-term business strategy becomes an on-going, iterative, event-driven process, driven by the architecture and fed by the continuous evolution of Internet technologies.


Figure 2-11 illustrates in broad strokes the relationship between business value and time to implement Internet technologies (and their cost, as a result) for the most popular areas of process improvement:

Intranets and Web-Based Document Management-Implementation of self-service intranets to replace manual, paper-based processes and the paper forms in human resources, training, marketing, purchasing, and so on is often the first area where Internet technologies are introduced to improve effectiveness, especially in companies that depend upon document management as a core business process (for example, insurance, financial services, legal, health care).
Sales Force Automation-Internet-based automation of informationintensive sales processes that handle prospects, contracts, custom deals, pricing, and other activities that facilitate sales can deliver significant ROI.
Order Management-Electronic self-service ordering and electronic catalog management are among the most popular areas for all companies that sell products or claim processing companies (for example, insurance and health care).
Inventory and Configuration Management:This is very popular area for leveraging Internet technologies, especially for large multinational companies that sell products worldwide.
Electronic Bill Presentation and Payment-Bill presentation and electronic payment are favorite areas for customer care-focused companies in telecommunications and financial services industries.
Customer Support-Web-based and integrated with intelligent problem knowledge bases and problem management applications, self-service customer support services generally provide very high business value. This category includes all kinds of on-line services, such as 24-hour service and support information, the ability to check product availability and track accounts or stock portfolios, the availability of timely news and service updates, and so on.
Distribution and Service Channel Automation-Implementation of extranet-based systems is highly beneficial to any company that sells products or services through a network of dealerships, franchises, or brokers.
Financial Reporting, Analysis, and Decision Support-Web-based integrated reporting systems can give decision makers access to real-time or consolidated information, customized to present the right information to the right decision maker at the right time.
Value Chain Integration: Overall, analyses of best practices have shown that the single greatest efficiency to be gained by Internet technology deployment is value chain integration. Through this strategy, each point of information flow is optimized (for example, bidirectional, secure passing of quality data is guaranteed) across all transaction points from the end customer up the value chain through all the suppliers. Value chain integration allows for substantial improvement of profitability by affecting multiple factors simultaneously (for example, tremendous cost savings, increased sales opportunities, improved customer service,).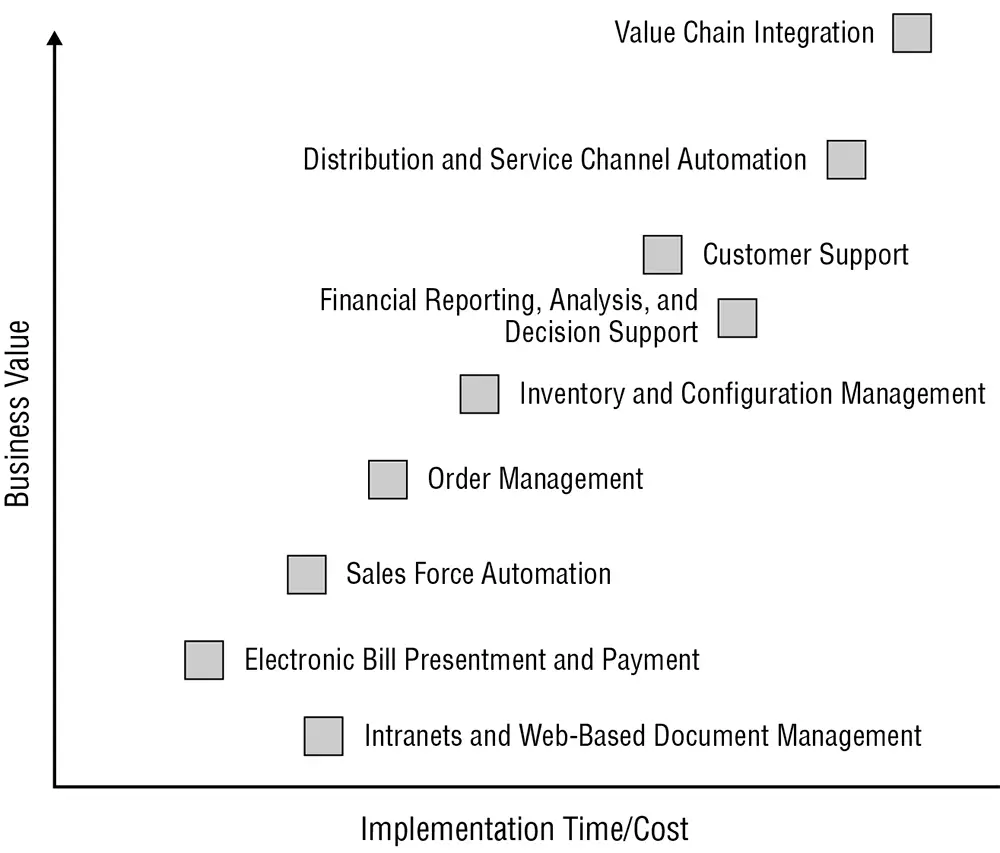 To verify your understanding of concepts covered in this module, we recommend that you take the end of module self-check quiz.
Not only will this help verify your own understanding, but it will provide you with valuable practice prior to taking the end of course test.
Architecture Conclusion - Quiz
Now that you have an introductory understanding of the field of architecture, we will now discuss some of the technologies that affect e-Business. Module 3 walks through an evolution of Internet technologies and how they affect business.