| | |
| --- | --- |
| Lesson 3 | LANs and WANs |
| Objective | Describe the function of LANs and WANs. |
Functional Description of LANs and WANs
Certainly. Local Area Networks (LANs) and Wide Area Networks (WANs) play a pivotal role in facilitating e-business operations, ensuring seamless connectivity, data exchange, and application accessibility across geographically dispersed locations.
Local Area Networks (LANs):
High-Speed Connectivity: LANs provide high-speed network connectivity within a limited geographical area such as an office building or campus. This ensures rapid data exchange and communication between devices, which is crucial for time-sensitive e-business transactions.
Resource Sharing: They enable the sharing of resources such as printers, files, and applications within the network, enhancing operational efficiency and reducing costs for e-businesses.
Collaboration and Communication: LANs facilitate internal communication and collaboration through instant messaging, video conferencing, and shared workspaces, thereby increasing productivity and speeding up decision-making processes.
Network Security and Control: With LANs, network administrators have greater control over network access and security settings. This is vital for protecting sensitive business data and ensuring the integrity of e-business transactions.
Scalability: LANs can be easily expanded to accommodate growing business needs, ensuring that the network infrastructure evolves in tandem with the e-business.
Wide Area Networks (WANs):
Global Connectivity: WANs provide long-distance network connectivity, linking LANs across cities, countries, and continents. This is essential for e-businesses operating in multiple locations, ensuring that employees, partners, and customers have consistent access to the company's network resources.
Data Synchronization: They enable data synchronization across dispersed locations, ensuring that all stakeholders have access to up-to-date information, which is critical for maintaining data integrity and consistency in e-business operations.
Application Accessibility: WANs facilitate access to centralized applications and databases, enabling remote workers and branch offices to utilize the same tools and resources as the headquarters, thereby ensuring uniformity and consistency in business operations.
Network Resilience and Redundancy: WANs can be configured to provide network resilience and redundancy, ensuring continuous network availability even in the event of hardware failures or network outages. This is crucial for maintaining uninterrupted e-business operations.
Optimized Bandwidth Utilization: Advanced WAN optimization techniques can be employed to maximize bandwidth utilization, reduce latency, and improve the performance of networked applications, enhancing the user experience for customers and employees alike.
Cost-Efficiency: By leveraging virtual private network (VPN) technologies and the internet for connectivity, e-businesses can reduce the costs associated with leasing dedicated lines for long-distance connectivity.
In essence, LANs and WANs serve as the foundational network infrastructure for e-businesses, enabling high-speed connectivity, resource sharing, global reach, and robust network performance. These networks ensure that businesses can operate efficiently, collaborate effectively, and serve their customers reliably, regardless of geographical constraints. The strategic implementation and management of LANs and WANs are therefore paramount to the success of any e-business initiative.
What are LANs?
An interconnected set of information resources under the same direct management control which shares common functionality. A system normally includes hardware, software, information, data, applications, communications, and people. A system can be, for example, a local area network (LAN) including smart terminals that supports a branch office, an agency-wide backbone, a communications network, a departmental data processing center including its operating system and utilities, a tactical radio network , or a shared information processing service organization (IPSO). LAN stands for local area network. LANs enable computing devices within the same local area, such as the same building, to share information, as illustrated here.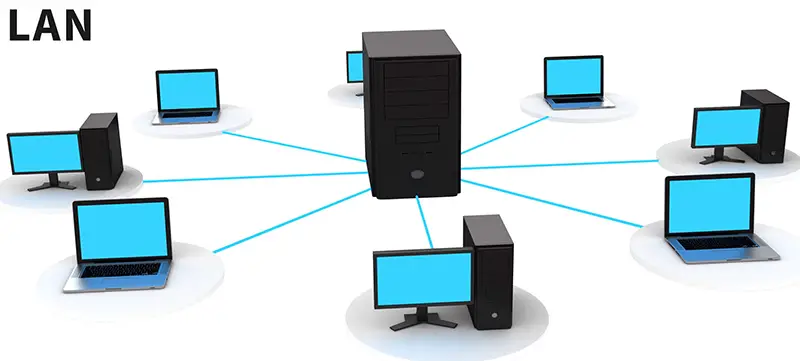 Most LANs do not require the use of common telecommunications carriers. Given their limited physical reach, most LAN wiring is done either internally by organizations or by local wiring contractors.


LAN | WAN Network Diagrams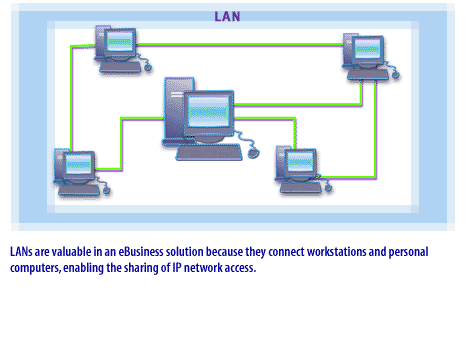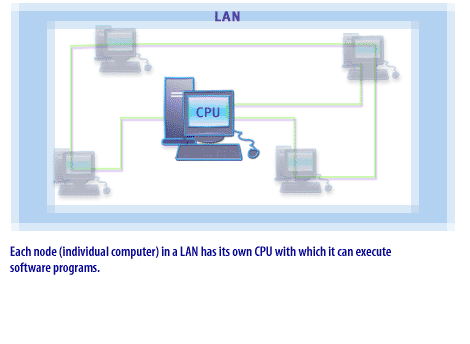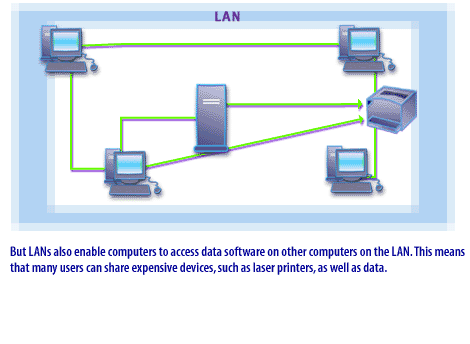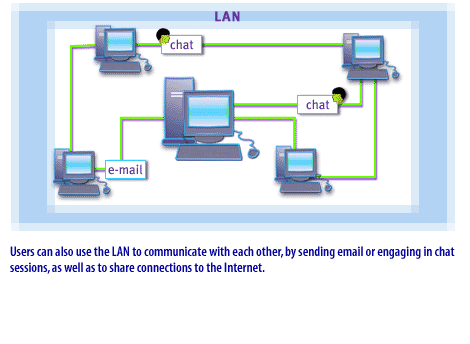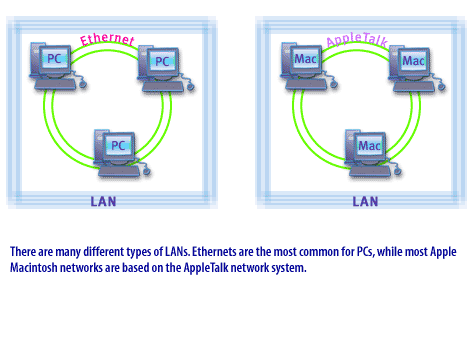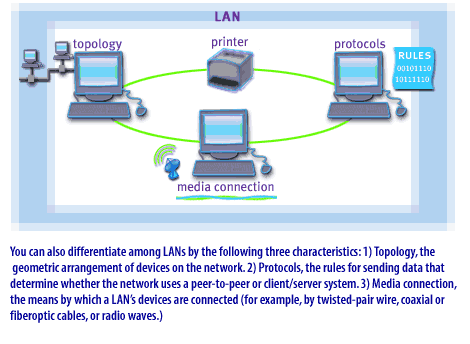 What are WANs?
Now that you have a solid understanding of LANs, it will be easy for you to understand how WANs work. A WAN is a wide area network. WANs enable remote computers and computer devices beyond the same building or physical structure to share information, as illustrated below. Typically, a WAN consists of two or more local area networks (LANs).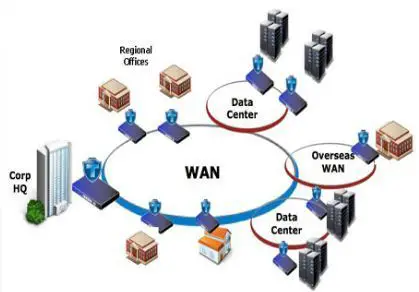 Computers connected to a WAN are often connected through public networks, such as the telephone system. They can also be connected through leased lines or satellites. In a sense, the largest WAN in existence is the Internet.
Considerations in implementing LANs and WANs
Most organizations install LANs and a WAN, whether or not they participate in eBusiness. As a result, their installation may not be part of planning an eBusiness solution. But they will be if your company is new and needs such an installation. For these reasons, it is important to be aware not only of the utility of LANs and WANs, but also of the challenges they pose.
For LANs, the biggest challenge is managing bandwidth. If there is a bottleneck in your eBusiness solution, it may be that the LAN isn't performing efficiently. LANs need to be maintained regularly to prevent such slow-downs.
When considering implementing a WAN, it is necessary to consider its performance, reliability, and manageability.
The next lesson discusses more networking technologies, the Internet, VPNs, intranets and extranets.
lans wans - Quiz
Click the Quiz link below to test your knowledge of LANs and WANs.
Lans Wans - Quiz