Factors to consider when implementing an e-Business solution
The rate of change in e-business presents an enormous challenge to managers. Business on the Internet is evolving through a process of trial and error. Management flexibility is a key for survival and success in e-business. The environment of any organization consists of all of the factors that are beyond its control, but influence the organization in one way or another.
To counter the potential adverse affects of these factors, the e-business can respond with strategies. An external strategy is an approach to deal with factors in the external business environment such as competitors, markets, and technological developments, that are beyond the company's direct control. This is different from a corporate strategy, which addresses factors under the company's control such as the approach to marketing, sales, and pricing. Other components of the business model such as the value proposition and sources of revenue may also include strategies.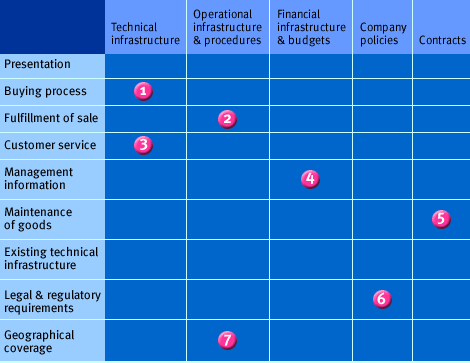 Does the design include instance, secure credit card approval?
Does design correspond to the fulfillment of sale with current shipping and distribution systems?
Does the design include customer care online support?
Does the design signoff include the company's financial officers?
Does the design link warehouse stock with what is advertised on site?
Does the design accomodate legal considerations for the international satellite locations?
Does the design take into account licenses for shipment to foreign locations?