Web Interaction Model
Signs are Visual Markings or Sounds that present Information
"Signs" in the context of web design are visual markings or sounds that present information that cue users about the functionality of the website. They can be used to help users understand how to navigate the site, what actions they can take, and what information is available.
Some common types of signs used in web design include:
Icons: Icons are small, graphical representations of objects, actions, or concepts. They are often used to represent links, buttons, and other elements on a website.
Labels: Labels are text descriptions that provide more information about an icon or other element on a website.
Tooltips: Tooltips are small, pop-up windows that appear when a user hovers their mouse over an icon or other element on a website. They provide additional information about the element.
Sounds: Sounds can be used to provide feedback to users, such as when they click on a link or submit a form. They can also be used to create a more engaging and immersive user experience.
The use of signs in web design can help to improve the usability of a website by making it easier for users to understand how the site works and what they can do. This can lead to increased user satisfaction and engagement, as well as improved conversion rates.
Here are some additional tips for using signs effectively in web design:
Use clear and concise labels.
Make sure that tooltips are informative and helpful.
Use sounds that are appropriate for the context of the website.
Don't overuse signs. Too many signs can be overwhelming and distracting.
By following these tips, you can use signs to create a more user-friendly and engaging website.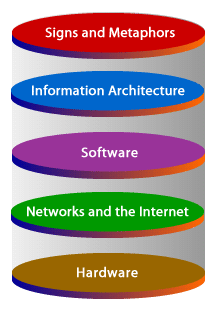 Signs and Metaphors
Signs are visual markings or sounds that present information and metaphors cue users about the functionality of the site through the use of icons or images. Together, Signs and Metaphors create the look and feel of the site.
Information Architecture
Information Architecture organizes Signs and Metaphors into a cohesive structure. In addition, it lays down the path for navigating through the site.
Software
Software comprises underlying components (applications) that enable the display of Signs and Metaphors.
In addition, software creates, stores, and manages all resources available over the Web.
Networks and the Internet
A network is a series of computers that communicate with each other. Common protocols used on the Internet are TCP, IP, HTTP, FTP, and SMTP (the Internet email protocol).
Hardware
Hardware includes the user's computer equipment, also
Web servers,
database servers,
mail servers,
domain name servers, and
firewall servers.
On the network side, hardware includes modems, routers, hubs, and other network equipment; phone lines; and data lines (DSL, T1, OC12, etc.).