Example of an Application Service Provider and Co-location Facility
An example of an Application Service Provider would include a co-location facility that provides complex Internet hosting for enterprises with mission-critical Internet operations.
A colocation center is a type of data centre where equipment, space, and bandwidth are available for rental to retail customers. Colocation facilities provide space, power, cooling, and physical security for the server, storage, and networking equipment of other firms and connect them to a variety of telecommunications and network service providers, with a minimum of cost and complexity.
Colocation has become a popular option for companies with midsize IT needs since it allows the company to focus its IT staff on the actual work being done, instead of the logistical support needs which underlie the work. Significant benefits of scale result in large colocation facilities, typically 4500 to 9500 square meters.
Application Service Providers
Application service providers are third-party entities that manage, deploy, and host software-based services and applications for their customers from server farms and datacenters across wide area networks. Customers access the hosted application remotely and pay in a subscriptionbased manner. In essence, ASPs constitute a way for companies to outsource some or all aspects of their information technology operations, thus dramatically reducing their spending in this area. Services and applications offered by ASPs may be broadly categorized as follows:


Enterprise application ASPs deliver high-end business applications, such as enterprise resource planning solutions. Customers are corporate clients who need these solutions but want to avoid investing in proper in-house installations.
Locally constrained ASPs deliver a wide variety of (mostly bundled) application services in a local area, such as a portal for all the shops in a city or tourist information services for a region, including event registration, booking, and ordering features. These serve both the individual users as well as the local entity (e.g., shop or museum).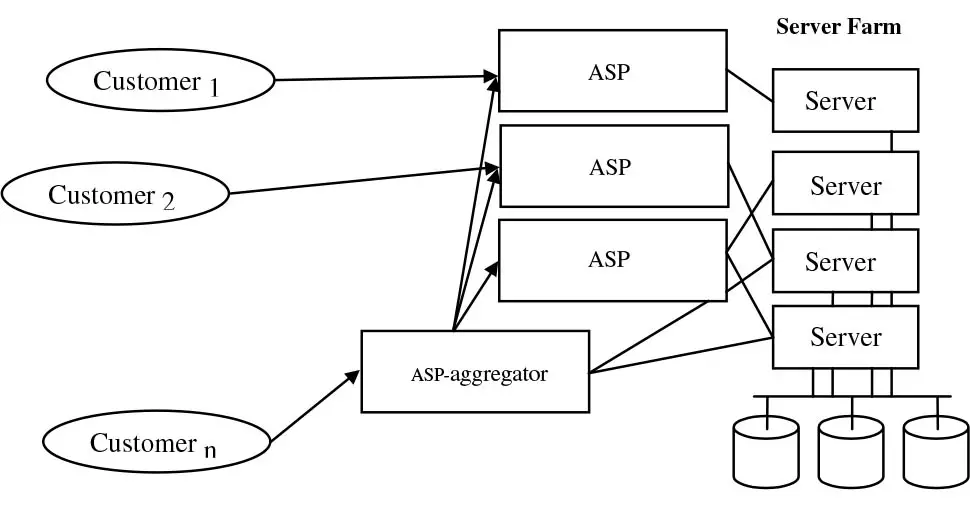 Specialized ASPs
deliver highly specialized applications addressing one specific function, such as news, sports and stock tickers, weather information, site indexing, or credit card validation. Customers are usually other online service providers who bundle multiple services as
Vertical market ASPs deliver applications catering to one specific industry, such as insurances, human resource management, media asset management, or health care. The customer is the corporate client.
Bulk-service ASPs deliver applications for businesses in large quantities, such as e-mail, online catalog, document, or storage management.
ASP aggregators combine the offerings of several ASPs and provide the user with service bundles and a single way to interact with all the aggregated ASPs.
one and serve one target community.